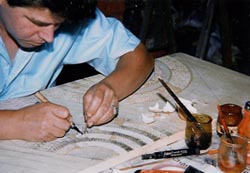 Settled in the gallery-shop « Art's & Déco » in Nançay, in the French department Cher, Rémi MAILLARD is a lacquer artist, specialist of China and Japan's lacquer, mixing creation, tradition and non-figurative contemporary innovation.
His works are only made by hand on wood support, which he cuts, hews, carves. He remains attached to the traditional primers, mineral powdered pigments, 'flatting' varnish applied with a silk brush.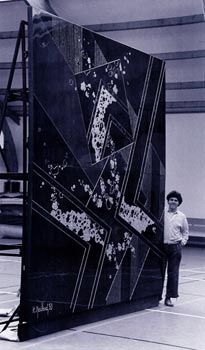 As time does its work, making a lacquer being a long fastidious work of meticulous sanding, the final piece, once rested, is polished to give it all its depth and its lustre.
He decorates his works with gold and silver foils, with golden aventurine which, layer after layer, are sanded, polished, engraved, chiseled, and foregrounded.
Former haute couture fashion designer, Rémi Maillard discovered the lacquer in 1982: curious to know more about the techniques, he travels in Asia then perfects his training in the 'Ateliers chinois de France'. His meeting with Bernard Dunand, son of the great lacquer of the Art Deco period, is crucial
By dint of mastery and constantly researching the perfection, Rémi Maillard has become one of the last great master of the lacquer; a work of strictness, of tradition, of passion, a know-how of excellence, and techniques that become rare.
Among his exhibitions, there are the one done in UNESCO in 1991, in Sénat in Paris in 2010, and in Château d'Eau / Château d'Art in Bourges in 2011, in the Couvent des Cordeliers in Châteauroux in 2014, in the Palace of the King of Rome in Rambouillet in 2015.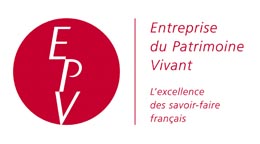 In 2016, Rémi maillard receives the label E.P.V. (Living Heritage Company). This label of excellence, awarded with the approval of the Institut Supérieur des Métiers, by the Ministry of Economy and Finance, represents the elite of French companies. "Rémi MAILLARD Maître-Laqueur" is thus referenced on the website of Living Heritage Companies, which is the showcase of French know-how to customers all over the world.